Spend your lunch break with us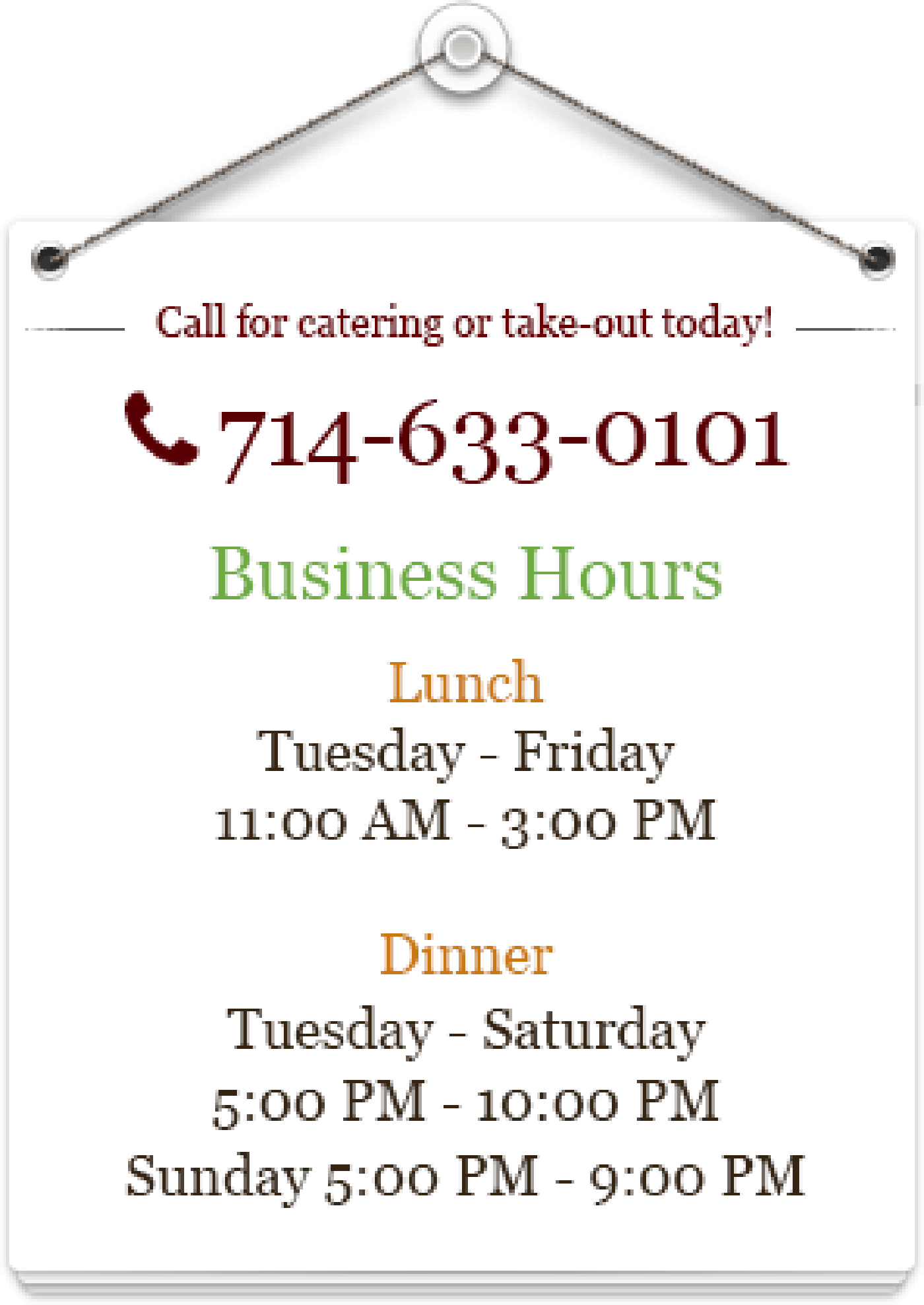 Take a look at our Lunch menu to see everything we have in store. All our food is made-to-order with that special homemade touch!
Lunch
Call for Daily Specials
ANTIPASTI
Mozzarella en Corrozza
Deep-fried mozzarella, spicy marinara sauce
Peperoni Aglio Arrostiti
Roasted peppers, garlic, olive oil, and fresh basil
Antipasto Freddo
Assorted Italian meats and cheeses
Calamari Fritti
Deep-fried squid, spicy marinara sauce
Carpaccio
Thin slices of filet mignon, olive oil, basil, lemon, capers, shaved Parmigiana cheese
ZUPPE
Minestrone
Fresh vegetable soup
Stracciatella
Italian egg drop soup
INSALATA
Insalata de la Casa
Romaine, mixed greens, tomatoes, carrots, green olives
Insalata de Caesar
Romaine lettuce, Parmigiana cheese, croutons
Insalata de Caesar con Pollo
Romaine lettuce, Parmigiana cheese, croutons, grilled chicken breast
Insalata Spagnola
Romaine, tomatoes, roasted red peppers, Albacore tuna, Spanish olives, hard-boiled egg, sliced red onion
Insalata Greca
Romaine, tomatoes, sliced red onion, Kalamata olives, feta cheese, cucumbers
PASTA
Served with Minestrone soup or House salad
Cannelloni
Stuffed crepes of veal, cheese, fresh vegetables, bolognese or mascarpone sauce
Manicotti alla Fiorentina
Stuffed crepes of ricotta cheese, spinach, marinara or mascarpone sauce
Lasagna
Layers of pasta, meat, Italian cheese, bolognese sauce
Eggplant Parmigiana
Layers of eggplant, cheese, marinara sauce
Penne Arrabiata con Pollo or Salsiccia
Pasta, breast of chicken or Italian sausage, spicy tomato sauce
Fettucine Mascarpone
Pasta, mascarpone sauce
Cappeline d'Angelo
Pasta, breast of chicken, prosciutto, green peas, mushrooms, mascarpone sauce
Ravioli Gorgonzola
Ravioli stuffed with spinach or veal, gorgonzola sauce
Fussilli con Tunno
Pasta, olive oil, garlic, capers, sundried tomatoes, albacore tuna
Penne Contadina
Pasta, Italian sausage, peppers, olives, fresh herbs, marinara sauce
Fussilli Vesuviana con Fungi
Pasta, fresh tomatoes, olive oil, garlic, oregano, buffalo mozzarella, mushrooms
Fettucine Primavera
Pasta, fresh vegetables, alfredo sauce or marinara sauce
Fettucine Pollo Alfredo
Pasta, breast of chicken, broccoli, alfredo sauce
Spaghetti Aglio e Olio con Scampi
Pasta, shrimp, olive oil, garlic, basil, green onion, Parmigiana cheese
Spaghetti Santa Fe
Pasta, breast of chicken, roasted red peppers, red onions, cilantro, cream tequila sauce
Capelline con Capesante
Pasta, scallops, French mustard, white wine, green olives, capers, pimentos, cream
Spaghetti Carbonara
Pasta, egg, proscuitto, green onions, peas, cream
Pasta al Gusto Tuo
Pasta your way! If we have the ingredients, we will be happy to prepare it for you.
VITELLO, POLLO e PESCE
Served with Minestrone Soup or House Salad
Vitello Picatta
Veal scallopine, lemon, butter, capers, white wine
Vitello Parmigiana
Breaded veal cutlet, Italian cheese, marinara sauce
Pollo Marsala
Breast of chicken, shallots, mushrooms, marsala wine
Pollo Tegamino
Breast of chicken, Italian cheese, marinara sauce
Scampi Diavolo
Sautéed shrimp, fresh spicy tomato sauce
Pesce Fresco
Fresh fish of the day
DOLCI
Cheesecakes
Assorted homemade cheesecakes
Tiramisu
Italian rum cake
Spumoni
Italian ice cream
Sorbetto
Assorted homemade Italian ice